Shopping Cart
Your Cart is Empty
There was an error with PayPal
Click here to try again
Thank you for your business!
You should be receiving an order confirmation from Paypal shortly.
Exit Shopping Cart
Engage~Empathise~Educate~Empower
A Support Service for Parents to be
| | |
| --- | --- |
| Posted on June 22, 2014 at 3:27 PM | |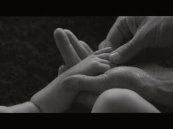 "Being touched and caressed, being massaged, is food for the infant: food as necessary as minerals, vitamins and proteins" – Dr Frederick Leboyer
Touch is the first sense that a baby develops in utero and it is used instinctively from when they are born into the world. It is part of them and it is the best way for them to learn about themselves, the world and their place in it, through the messages they receive through their skin. It can range from a natural reflex like rooting for their fist or feeling and smelling for their food source (for example the nipple of a breast or teat of a bottle) to grabbing whatever they can reach out to.
 For the child who has yet to develop any form of communication, the sense of touch becomes a crucial means of communication and bonding with its carers. Touch helps build the bonds of trust and love and forms the emotional development of the child.
The infant-mother attachment, in most cases, is an infant's first social experience and is the beginning of social and emotional development. Several parts of the massage experience are believed to help facilitate attachment and bonding. Some of these components include smell, skin to skin contact, smiling and soothing sounds as well as eye contact. Many parents find that massage helps them feel closer to their children. Parents generally feel that massage is a positive experience with their child even when other caring experiences may have been less positive.
Positive physiological effects of massage that have been documented include the improvement of venous and lymphatic circulation, normalising of the gastro –intestinal function, enhancement of body awareness, relaxation in an irritable child, as well as arousal in a lethargic child. Also, baby massage can have an effect on preterm/low birth weight babies to gain weight more rapidly. It can help to stimulate muscle tone and promote relaxation of tense muscles. It can increase sleep patterns as the baby learns to relax and calm themselves. It can also help with the colicky infant, constipation and other digestive problems.
Infant Massage also promotes an increase in Prolactin/Oxytocin production, 'The Love Hormone,' which furthers motherly instincts and wellbeing. This creates a feel good factor that enhances the bonding process, which can help reduce post natal depression and help mothers form a good relationship with their child for the future. Infant Massage can be done by any carer, be it mother, father, grandparent or foster carer, ensuring the best positive outcome for that infant.
Categories: Infant Massage, Baby Massage Touch
/