Shopping Cart
Your Cart is Empty
There was an error with PayPal
Click here to try again
Thank you for your business!
You should be receiving an order confirmation from Paypal shortly.
Exit Shopping Cart
Engage~Empathise~Educate~Empower
A Support Service for Parents to be
| | |
| --- | --- |
| Posted on June 21, 2014 at 3:41 PM | |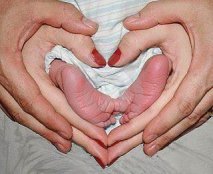 The idea of a fourth trimester is being discussed a lot more in the last few years with parents becoming more informed about pregnancy, birth and parenting. Therefore, the birth professionals are starting to realise that the time period from birth to three months is so important for both baby and mother, as well as for fathers as they experience this journey together.
Most people are aware of the three trimesters of pregnancy, where baby grows and develops from a fetus to a healthy term infant born somewhere between 37 weeks and 42 weeks gestation period.
A baby born before 37 weeks is classed as preterm and will require more care and support initially to maintain stability with their growth and health development and to be able to cope with their new environment they find themselves.
'But even healthy full term babies require additional three months to 'wake up' and become active partners in the relationship' (Dr Harvey Karp – Baby Bliss 2002).
While the baby remains 'in utero', they are safe, secure, protected, fed and nurtured in their cocoon of the mother's womb, then at the end of the third trimester they are 'evicted' and they suddenly find themselves in an unfamiliar environment of bright lights, new noises, new smells and a place which seems alien to them.
How are they and you going to cope?
All your baby wants is YOU.
Your baby wants to feel happy and safe and secure as it was in your uterus for the last nine months. The first three months should be an extension of this in the outside world.
From the moment of birth, your baby will recognise your voice, their father's voice and all those familiar sounds that they heard from inside the womb, so whether you choose to breastfeed or bottle feed, having skin to skin contact as soon as possible after birth would be the ideal, prior to anything else such as baths or showers.
Your baby can be placed on your chest or tummy, so that time can be given for you both of you to meet and to get to know each other. The benefit of this reduces stress levels for both you and your baby and allows the release of relaxing hormones such as oxytocin and serotonin. Also being close to the mother's heartbeat is reminiscent for the baby, of the blood flowing through the umbilical cord and placenta which once connected your baby to you. Your baby will be able to calm down through self regulation and through mimicking the breath sounds of their mother or father.
This early introduction of Touch after birth is important and the benefits can be experienced further with Baby Massage. Baby Massage can improve sleep patterns and encourages bonding which helps with reducing the risk of postnatal depression, relief with colic or wind which can be associated with babies having to cope with their new environment, for some babies more than others.
The key factor seem to be 'being calm' both for baby and parent. For parents having a baby is a life event unlike any other, probably with the biggest adjustment and change and impact on lifestyle, attitude, values, expectations and relationships. The first three months is challenging for all concerned both physically, physiologically and emotionally as parents and baby become one family unit.
So the main task within the first four months would be to nurture your baby's confidence in you and the world.
.
Categories: Pregnancy,Childbirth and Postnatal Experience
/